Infinity Eye Care
Delivering a level of service and personal attention that's rare even here in the Low Country.
Dr. Zolman is the owner and founder of Infinity Eye Care and Low Vision Rehabilitation Center. His practice is dedicated to providing excellent vision and eye care health for the entire family. In addition, his practice strives to maximize the vision potential of anyone who has been diagnosed with an ocular condition that has left them with a visual impairment that cannot be corrected with conventional glasses or contacts.
Dr. Zolman was raised in the southeast in east Tennessee. He attended the University of Tennessee, Knoxville and graduated with a Bachelor of Science in Biochemistry and Molecular Biology in 2001. He continued his education at Nova Southeastern University, College of Optometry in Ft. Lauderdale, FL earning a Doctorate degree in Optometry and a Doctorate degree in Vision Science in 2006.
Our Patients Say It Best!
A caring and experienced doctor and a friendly dedicated staff make Infinity Eye Care a highly recommended practice. Dr. Zolman and his staff work hard to earn patients' trust. See what outstanding patient care can be requesting an appointment today.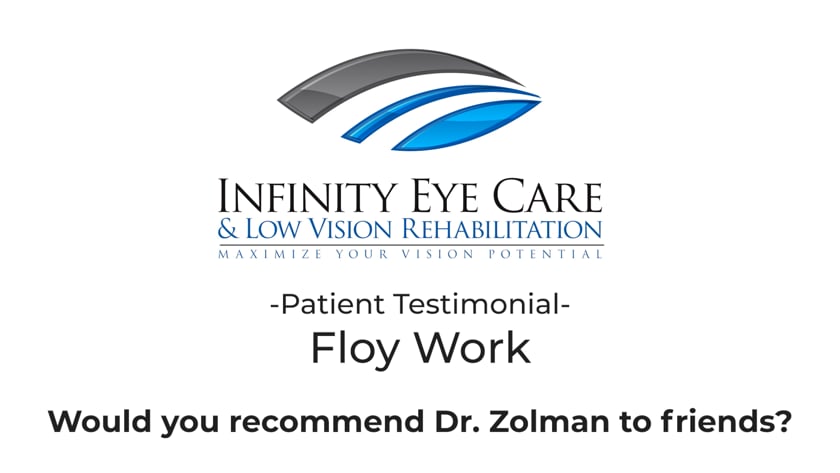 A Few Of Our Services
We do our job with love, care and responsibility!
Eye Exams
Our team will take the time to insure that "no stone goes unturned" during your visit with us and that you fully understand everything that is found and recommended after your thorough examination.
Laser Surgery
Through our close connection with the area's skilled surgeons, we have screened hundreds of patients for refractive surgery. 
Eye Glasses
With the doctor's experience along with the latest in high tech diagnostic equipment, it's now possible to have the most accurate prescriptions possible. 
Diseases
Dr. Zolman is experienced not only in Primary Eye Care, but also in the diagnosis and treatment of ocular diseases.
Contact Lenses
There are two major classifications of contact lenses, soft lenses and Rigid Gas Permeable (RGP) lenses. Both have their own advantages and disadvantages.
Low Vision
Dr. Zolman provides low vision rehabilitative services that can help restore the independence and freedom that once seemed lost.