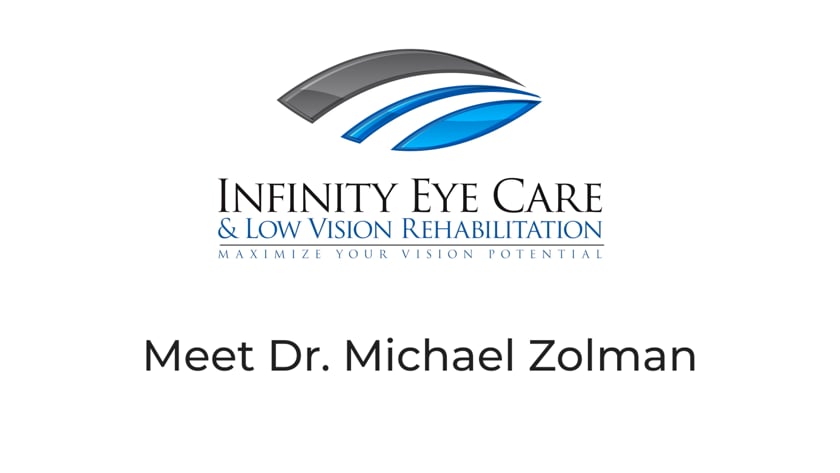 Dr. Michael Zolman is the owner and founder of Infinity Eye Care and Low Vision Rehabilitation Center. His practice is dedicated to providing excellent vision and eye care health for the entire family. In addition, his practice strives to maximize the vision potential of anyone who has been diagnosed with an ocular condition that has left them with a visual impairment that cannot be corrected with conventional glasses or contacts.
Dr. Zolman was raised in the southeast in east Tennessee. He attended the University of Tennessee, Knoxville and graduated with a Bachelor of Science in Biochemistry and Molecular Biology in 2001. He continued his education at Nova Southeastern University, College of Optometry in Ft. Lauderdale, FL earning a Doctorate degree in Optometry and a Doctorate degree in Vision Science in 2006. He also received training in Low Vision Rehabilitation at the Lighthouse International in New York City, Lighthouse of Broward County in South Florida, and the Feldberg Center of Vision Rehabilitation at the Storm Eye Institute at the Medical University of South Carolina.
Dr. Zolman's desire to help those in need led him join the Student Volunteer Optometric Service to Humanity while in optometry school where he went on optometric mission trips to Ecuador and Peru in South America. He also helped organize Title One school screenings in the Charleston area to provide eye care and glasses to elementary school children. Currently, he is the co-clinical director of the South Carolina Special Olympics 'Opening Eyes' program for which he and other volunteers provide eye exams and glasses at no cost to Special Olympics athletes.
Professional organizations that Dr. Zolman is involved in include the American Optometric Association, the South Carolina Optometric Association, the Coastal Carolina Optometric Society, the Southern Council of Optometrists, and the Low Vision Rehabilitation Services of the American Optometric Association. Dr. Zolman is a participating provider for the InfantSee program of the American Optometric Association. He holds a optometric license in both South Carolina and Tennessee.
Away from the office, Dr. Zolman enjoys spending time with friends and family. Dr. Zolman loves to take advantage of the beautiful outdoors of the Low Country. He enjoys kayaking, camping, going to Riverdogs and Battery games, and going to the beach. In addition, he likes discovering new music, strengthening his faith, and spending time with his dogs, Bailey and Follie.